Plan principal. Stage 1
Contenido: Conjuntos de Encuentros de Loki, Guantelete del Infinito y Normal. Dos conjuntos de Encuentros modulares (Encantadora y Gigantes de hielo).
Preparación: aparta todas las copias del Villano Loki a un lado, fuera del juego. Pon en juego el Plan secundario "Guerra en Asgard". Baraja el mazo de Encuentros. Muestra 1 de los Villanos Loki apartados (elegido al azar). Muestra la primera carta de la parte superior del mazo de Gema del infinito.
Plan principal. Stage 1
Starting Threat: 1. Escalation Threat: 1.
Threat: 12.
Interrupción obligada: cuando Loki sea derrotado, se avanza a uno de los Villanos Loki apartados (elegido al azar).
Si el número de Lokis que hay en la zona de victoria es igual a la condición de victoria, los jugadores ganan la partida (ver cuaderno de reglas). Si se completa esta etapa, los jugadores pierden la partida.
Contents: Loki, infinity Gauntlet, and standard encounter sets. Two modular encounter sets. (Enchantress and Frost Giants). Setup: Set each copy of the Loki villain aside, out of play. Put the War in asgard side scheme into play. Shuffle the encounter deck. Reveal 1 set-aside Loki villain at random. Reveal the top card of the [[infinity stone]] deck.
La sombra del titán loco #165. Loki #6.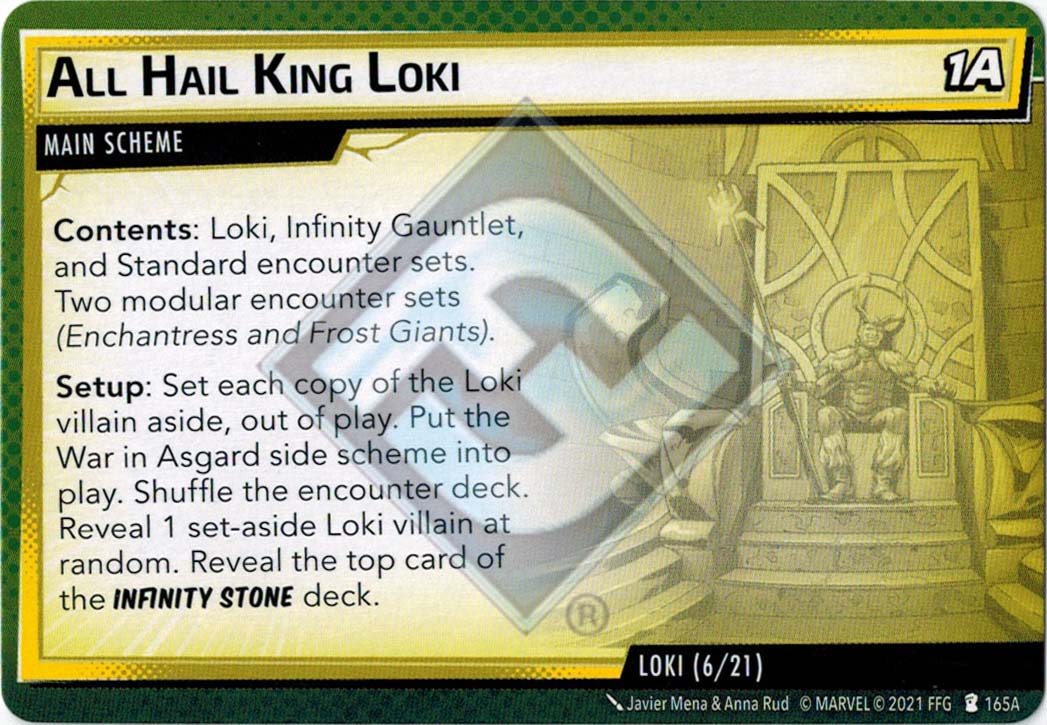 No review yet for this card.